Click Here to view the video at the beginning of the post, or to continue to read.
* * *
Yusef Salaam was 15 years old when Donald Trump demanded his execution for a crime he did not commit.
Nearly three decades before the rambunctious billionaire began his run for president – before he called for a ban on Muslims entering the United States, for the expulsion of all undocumented migrants, before he branded Mexicans as "rapists" and was accused of mocking the disabled – Trump called for the reinstatement of the death penalty in New York following a horrific rape case in which five teenagers were wrongly convicted.
The miscarriage of justice is widely remembered as a definitive moment in New York's fractured race relations. But Trump's intervention – he signed full-page newspaper advertisements implicitly calling for the boys to die – has been gradually overlooked as the businessman's chances of winning the Republican nomination have rapidly increased. Now those involved in the case of the so-called Central Park Five and its aftermath say Trump's rhetoric served as an unlikely precursor to a unique brand of divisive populism that has powered his rise to political prominence in 2016.
"He was the fire starter," Salaam said of Trump, in his first extended interview since Trump announced his run for the White House. "Common citizens were being manipulated and swayed into believing that we were guilty."
It was 1989. The crack epidemic had torn through New York as poverty soared to 25% and the city's elites reaped the rewards of a booming Wall Street. The murder rate had risen to 1,896 killings a year; 3,254 rapes would be reported in the five boroughs, but only one captured the city's extended attention and later exposed bias in its criminal justice system and media establishment.
On the evening of 19 April, as 28-year-old investment banker Trisha Meili, who was white, jogged across the northern, dilapidated section of Central Park, she was brutally attacked – bludgeoned with a rock, gagged, tied and raped. She was left for dead but discovered hours later, unconscious and suffering from hypothermia and severe brain damage.
The New York police department believed they already had the culprits in custody..
That same night, a group of more than 30 youths had entered the park from East Harlem. Some engaged in a rampage of random criminality, hurling rocks at cars, assaulting and mugging passersby. Among the group was Salaam, along with 14-year-olds Raymond Santana and Kevin Richardson, 15-year-old Antron McCray and 16-year-old Korey Wise. The teenagers – four African American and one Hispanic – would become known collectively as the Central Park Five.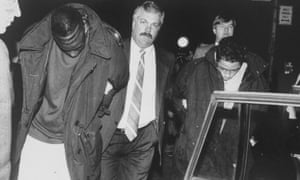 They would all later deny any involvement in criminality that night, but as they were rounded up and interrogated by the police at length, they said, they were forced into confessing to the rape.
"I would hear them beating up Korey Wise in the next room," recalled Salaam. "They would come and look at me and say: 'You realise you're next.' The fear made me feel really like I was not going to be able to make it out."
Four of the boys signed confessions and appeared on video without a lawyer, each arguing that while they had not been the individual to commit the rape they had witnessed one of the others do it, thereby implicating the entire group.
The city erupted. The case came to embody not only fears that accompanied the dramatic rise of violent crime in New York, but also its perceived racial dynamics. The case of a black woman, raped the same day in Brooklyn by two men who threw her from the roof of a four-story building, received little media attention.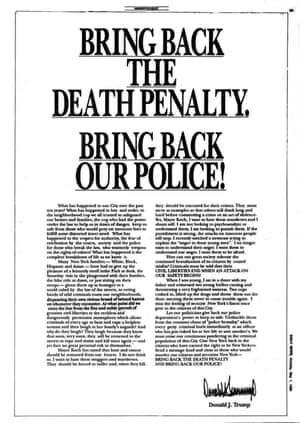 // <![CDATA[
(function(){var h=this,k=function(a,b){var c=a.split("."),d=h;c[0]in d||!d.execScript||d.execScript("var "+c[0]);for(var f;c.length&&(f=c.shift());)c.length||void 0===b?d=d[f]?d[f]:d[f]={}:d[f]=b},aa=function(a,b,c){return a.call.apply(a.bind,arguments)},ca=function(a,b,c){if(!a)throw Error();if(2<arguments.length){var d=Array.prototype.slice.call(arguments,2);return function(){var c=Array.prototype.slice.call(arguments);Array.prototype.unshift.apply(c,d);return a.apply(b,c)}}return function(){return a.apply(b,arguments)}},l=function(a,b,c){l=Function.prototype.bind&&-1!=Function.prototype.bind.toString().indexOf("native code")?aa:ca;return l.apply(null,arguments)};var n="undefined"!=typeof DOMTokenList,q=function(a,b){if(n){var c=a.classList;0==c.contains(b)&&c.toggle(b)}else if(c=a.className){for(var c=c.split(/\s+/),d=!1,f=0;fc.indexOf(b))){for(var c=c.split(/\s+/),d=0;d<c.length;++d)c[d]==b&&c.splice(d–,1);a.className=c.join(" ")}};var t=function(a,b,c){a.addEventListener?a.addEventListener(b,c,!1):a.attachEvent&&a.attachEvent("on"+b,c)};var x=String.prototype.trim?function(a){return a.trim()}:function(a){return a.replace(/^[\s\xa0]+|[\s\xa0]+$/g,"")},y=function(a,b){return ab?1:0};var z;a:{var A=h.navigator;if(A){var B=A.userAgent;if(B){z=B;break a}}z=""};var da=-1!=z.indexOf("Opera")||-1!=z.indexOf("OPR"),C=-1!=z.indexOf("Trident")||-1!=z.indexOf("MSIE"),ea=-1!=z.indexOf("Edge"),D=-1!=z.indexOf("Gecko")&&!(-1!=z.toLowerCase().indexOf("webkit")&&-1==z.indexOf("Edge"))&&!(-1!=z.indexOf("Trident")||-1!=z.indexOf("MSIE"))&&-1==z.indexOf("Edge"),fa=-1!=z.toLowerCase().indexOf("webkit")&&-1==z.indexOf("Edge"),E=function(){var a=h.document;return a?a.documentMode:void 0},F;a:{var G="",H=function(){var a=z;if(D)return/rv\:([^\);]+)(\)|;)/.exec(a);if(ea)return/Edge\/([\d\.]+)/.exec(a);if(C)return/\b(?:MSIE|rv)[: ]([^\);]+)(\)|;)/.exec(a);if(fa)return/WebKit\/(\S+)/.exec(a);if(da)return/(?:Version)[ \/]?(\S+)/.exec(a)}();H&&(G=H?H[1]:"");if(C){var I=E();if(null!=I&&I>parseFloat(G)){F=String(I);break a}}F=G}var J=F,K={},L=function(a){if(!K[a]){for(var b=0,c=x(String(J)).split("."),d=x(String(a)).split("."),f=Math.max(c.length,d.length),e=0;0==b&&e<f;e++){var m=c[e]||"",g=d[e]||"",u=RegExp("(\\d*)(\\D*)","g"),v=RegExp("(\\d*)(\\D*)","g");do{var p=u.exec(m)||["","",""],w=v.exec(g)||["","",""];if(0==p[0].length&&0==w[0].length)break;b=y(0==p[1].length?0:parseInt(p[1],10),0==w[1].length?0:parseInt(w[1],10))||y(0==p[2].length,0==w[2].length)||y(p[2],w[2])}while(0==b)}K[a]=0<=b}},M=h.document,ga=M&&C?E()||("CSS1Compat"==M.compatMode?parseInt(J,10):5):void 0;var N;if(!(N=!D&&!C)){var O;if(O=C)O=9<=Number(ga);N=O}N||D&&L("1.9.1");C&&L("9");var ha=function(a,b){if(!a||!b)return!1;if(a.contains&&1==b.nodeType)return a==b||a.contains(b);if("undefined"!=typeof a.compareDocumentPosition)return a==b||!!(a.compareDocumentPosition(b)&16);for(;b&&a!=b;)b=b.parentNode;return b==a};var ia=function(a,b,c){var d="mouseenter_custom"==b,f=P(b);return function(e){e||(e=window.event);if(e.type==f){if("mouseenter_custom"==b||"mouseleave_custom"==b){var m;if(m=d?e.relatedTarget||e.fromElement:e.relatedTarget||e.toElement)for(var g=0;g
// <![CDATA[
(function(){var g=this,k=function(a,b){var c=a.split("."),d=g;c[0]in d||!d.execScript||d.execScript("var "+c[0]);for(var e;c.length&&(e=c.shift());)c.length||void 0===b?d=d[e]?d[e]:d[e]={}:d[e]=b},aa=function(a){var b=typeof a;if("object"==b)if(a){if(a instanceof Array)return"array";if(a instanceof Object)return b;var c=Object.prototype.toString.call(a);if("[object Window]"==c)return"object";if("[object Array]"==c||"number"==typeof a.length&&"undefined"!=typeof a.splice&&"undefined"!=typeof a.propertyIsEnumerable&&!a.propertyIsEnumerable("splice"))return"array";if("[object Function]"==c||"undefined"!=typeof a.call&&"undefined"!=typeof a.propertyIsEnumerable&&!a.propertyIsEnumerable("call"))return"function"}else return"null";else if("function"==b&&"undefined"==typeof a.call)return"object";return b},ba=function(a,b,c){return a.call.apply(a.bind,arguments)},ca=function(a,b,c){if(!a)throw Error();if(2<arguments.length){var d=Array.prototype.slice.call(arguments,2);return function(){var c=Array.prototype.slice.call(arguments);Array.prototype.unshift.apply(c,d);return a.apply(b,c)}}return function(){return a.apply(b,arguments)}},l=function(a,b,c){l=Function.prototype.bind&&-1!=Function.prototype.bind.toString().indexOf("native code")?ba:ca;return l.apply(null,arguments)};var n=function(a,b){var c=parseInt(a,10);return isNaN(c)?b:c};var p=function(a){p[" "](a);return a};p[" "]=function(){};var r=function(a){var b=window;return b.getComputedStyle?b.getComputedStyle(a,null):a.currentStyle};var v=function(a,b){a.addEventListener?a.addEventListener("click",b,!1):a.attachEvent&&a.attachEvent("onclick",b)};var w=function(a){var b=window;b.google_image_requests||(b.google_image_requests=[]);var c=b.document.createElement("img");c.src=a;b.google_image_requests.push(c)};var x;var y=String.prototype.trim?function(a){return a.trim()}:function(a){return a.replace(/^[\s\xa0]+|[\s\xa0]+$/g,"")},z=function(a,b){return ab?1:0};var da=Array.prototype.indexOf?function(a,b,c){return Array.prototype.indexOf.call(a,b,c)}:function(a,b,c){c=null==c?0:0>c?Math.max(0,a.length+c):c;if("string"==typeof a)return"string"==typeof b&&1==b.length?a.indexOf(b,c):-1;for(;cparseFloat(H)){G=String(J);break a}}G=H}var K=G,L={},M=function(a){var b;if(!(b=L[a])){b=0;for(var c=y(String(K)).split("."),d=y(String(a)).split("."),e=Math.max(c.length,d.length),f=0;0==b&&f<e;f++){var h=c[f]||"",m=d[f]||"",t=RegExp("(\\d*)(\\D*)","g"),pa=RegExp("(\\d*)(\\D*)","g");do{var q=t.exec(h)||["","",""],u=pa.exec(m)||["","",""];if(0==q[0].length&&0==u[0].length)break;b=z(0==q[1].length?0:parseInt(q[1],10),0==u[1].length?0:parseInt(u[1],10))||z(0==q[2].length,0==u[2].length)||z(q[2],u[2])}while(0==b)}b=L[a]=0<=b}return b},N=g.document,ha=N&&D?F()||("CSS1Compat"==N.compatMode?parseInt(K,10):5):void 0;var O;if(!(O=!E&&!D)){var P;if(P=D)P=9<=Number(ha);O=P}O||E&&M("1.9.1");var Q=D&&!M("9");var R=function(a){var b=document;return"string"==typeof a?b.getElementById(a):a},S=function(a,b){var c=b||document;return c.querySelectorAll&&c.querySelector?c.querySelectorAll("."+a):ia(a,b)},ia=function(a,b){var c,d,e,f;c=document;c=b||c;if(c.querySelectorAll&&c.querySelector&&a)return c.querySelectorAll(""+(a?"."+a:""));if(a&&c.getElementsByClassName){var h=c.getElementsByClassName(a);return h}h=c.getElementsByTagName("*");if(a){f={};for(d=e=0;c=h[d];d++){var m=c.className,t;if(t="function"==typeof m.split)t=0<=da(m.split(/\s+/),a);t&&(f[e++]=c)}f.length=e;return f}return h},ka={SCRIPT:1,STYLE:1,HEAD:1,IFRAME:1,OBJECT:1},la={IMG:" ",BR:"\n"},na=function(){var a=document.getElementById("feedback-closing-template");if(Q&&null!==a&&"innerText"in a)a=a.innerText.replace(/(\r\n|\r|\n)/g,"\n");else{var b=[];ma(a,b,!0);a=b.join("")}a=a.replace(/ \xAD /g," ").replace(/\xAD/g,"");a=a.replace(/\u200B/g,"");Q||(a=a.replace(/ +/g," "));" "!=a&&(a=a.replace(/^\s*/,""));return a},ma=function(a,b,c){if(!(a.nodeName in ka))if(3==a.nodeType)c?b.push(String(a.nodeValue).replace(/(\r\n|\r|\n)/g,"")):b.push(a.nodeValue);else if(a.nodeName in la)b.push(la[a.nodeName]);else for(a=a.firstChild;a;)ma(a,b,c),a=a.nextSibling},T=function(a){this.w=a||g.document||document},oa=function(a,b){return S("feedback_description",b||a.w)};T.prototype.createElement=function(a){return this.w.createElement(a)};T.prototype.createTextNode=function(a){return this.w.createTextNode(String(a))};T.prototype.appendChild=function(a,b){a.appendChild(b)};var qa=function(a){var b={};if(a&&a.key_value){a=a.key_value;for(var c=0;c<a.length;c++){var d=a[c];if("key"in d&&"value"in d){var e=d.value;b[d.key]=null==e?null:String(e)}}}return b};var ra=function(a){a=String(a);if(/^\s*$/.test(a)?0:/^[\],:{}\s\u2028\u2029]*$/.test(a.replace(/\\["\\\/bfnrtu]/g,"@").replace(/(?:"[^"\\\n\r\u2028\u2029\x00-\x08\x0a-\x1f]*"|true|false|null|-?\d+(?:\.\d*)?(?:[eE][+\-]?\d+)?)[\s\u2028\u2029]*(?=:|,|]|}|$)/g,"]").replace(/(?:^|:|,)(?:[\s\u2028\u2029]*\[)+/g,"")))try{return eval("("+a+")")}catch(b){}throw Error("Invalid JSON string: "+a);},ta=function(a){var b=[];U(new sa,a,b);return b.join("")},sa=function(){this.o=void 0},U=function(a,b,c){if(null==b)c.push("null");else{if("object"==typeof b){if("array"==aa(b)){var d=b;b=d.length;c.push("[");for(var e="",f=0;f=this.h.bottom&&this.h.left>=this.h.right)},ya=function(){var a=new xa;return a.O&&(!a.aa||a.P>=a.$)};var V=function(a,b,c,d){this.G=a;this.R=b;this.T=c;this.m=0;this.l=document.getElementById("mtadmas");this.M=document.getElementById("mtadmaundo");this.C=document.getElementById("mtadmac");this.D=document.getElementById("mtadmback");this.J=document.getElementById("mtadmpc");this.N=document.getElementById("mtadmpundo");this.A=document.getElementById("mtadmpunclose");this.L=this.u=this.H=this.F=null;this.v=0;this.i=null;this.j=!1;this.s=null;this.W=d?d.getAdsLength():1;(this.g=d)&&this.g.registerWidget(this,0);this.I=0},za=function(a){for(var b=document.getElementsByName("surveyOptions"),c=0;c<b.length;c++)v(b[c],l(a.X,a,b[c].value));a.M&&v(a.M,l(a.B,a,"1″));a.N&&v(a.N,l(a.B,a,"3″));a.A&&v(a.A,l(a.Y,a));a.D&&v(a.D,l(a.back,a));a.g&&(a.g.listenOnObject("mute_option_selected",l(a.K,a)),a.g.forEachAd(l(function(a){a.listenOnObject("multislot_mute_collapse",l(this.V,this));a.listenOnObject("multislot_mute_collapse_undo",l(this.U,this))},a)))};V.prototype.K=function(a){this.F=a.close_button_token;this.H=a.creative_conversion_url;this.u=a.ablation_config;this.L=a.undo_callback;this.v=a.creative_index||0;this.g&&(this.s=this.g.getAd(this.v));if(1===a.type){a=S("survey");for(var b="survey_"+this.v,c=0;c<a.length;c++)a[c].style.display=a[c].id==b?"block":"none";a=document.getElementsByName("surveyOptions");for(b=0;b<a.length;b++)a[b].checked=!1;this.l.style.display="block";W(this);X(this)}else 0===a.type&&(this.J.style.display="block",this.l.style.display="none",W(this),Aa(this,document.getElementById("pub-feedback-closing"),this.u))};var Y=function(a){a.i&&(window.clearInterval(a.i),a.i=null,a.j=!1);R("pub-feedback-closing").style.display="none";R("ad-feedback-closing").style.display="none"};V.prototype.B=function(a){this.j||(Y(this),w(Z(this,"user_feedback_undo",a)),this.L())};V.prototype.Y=function(){var a={msg_type:"resize-me"};a.key_value=[{key:"r_nh",value:String(this.I)},{key:"r_str",value:"animate"}];a=ta(a);window.top.postMessage(a,"*");this.j=!1;this.B("3″)};V.prototype.back=function(){this.j||(Y(this),this.l.style.display="block",W(this),X(this))};V.prototype.X=function(a){this.C.style.display="block";this.l.style.display="none";X(this);w(Z(this,"mute_survey_option",a));a=document.getElementById("ad-feedback-closing");this.me||e>h||a.i)){var m=na();c=l(function(){var a="";h<=d&&0=h&&Y(this);h–},a);c();0<=h&&(a.i=window.setInterval(c,1E3))}},Aa=function(a,b,c){if(c&&window.top&&window.top.postMessage){var d=ra(c),e=qa(d),f="resize-me"==d.msg_type&&"animate"==e.r_str;if("ablate-me"==d.msg_type&&e["collapse-after-close"]||f&&!ya())a.A&&(a.I=window.innerHeight,f=document.getElementById("cbtf"),f=oa(x||(x=new T),f)[1],f=Da(a.S,f),c=Ea(d,f)),Ca(a,b,n(e["secs-to-countdown"],1),n(e.countdown,0),n(e["message-tick"],1),function(){window.top.postMessage(c,"*")})}},Ea=function(a,b){if(!isNaN(b)&&isFinite(b)){var c=!1;if(a.key_value){for(var d=a.key_value,e=0;e<d.length;e++){var f=d[e];if("key"in f&&"value"in f&&"r_nh"==f.key){c=!0;f.value=b.toString();break}}c||d.push({key:"r_nh",value:b.toString()})}}return ta(a)};V.prototype.S=function(a){var b=r(a);a=r(a.parentNode.parentNode);return parseInt(b.height,10)+parseInt(b.marginTop,10)+parseInt(a.marginTop,10)};var Da=function(a,b){for(var c=[],d=b;d&&"BODY"!=d.tagName;d=d.parentNode)d.style&&"block"!=d.style.display&&(c.push({el:d,val:d.style.display}),d.style.display="block");for(var d=a(b),e;e=c.pop();)void 0!==e.Z&&(e.ba.style.display=e.Z);return d},Ba=function(a,b){Ca(a,b,1,a.T,0,l(function(){var a={creative_index:this.s.getIndex(),undo_pingback_url:Z(this,"user_feedback_undo","1″)};this.s.fireOnObject("multislot_mute_collapse",a)},a))};V.prototype.V=function(){this.m++;this.g.resetAll()};V.prototype.U=function(){0